Exchange, support, and other events and services for international students both inside and outside YNU
"isynu-net" (Email Newsletter for YNU International Students)
YNU publishes an email newsletter for international students called " isynu-net." Students who sign up will receive issues of the newsletter (non-scheduled release) that contain information such as events on and off campus, exchange events, and career guidance news. As this is a useful source of information, we recommend you sign up. For how to register, please refer to the following page.
"isynu-net"
Exchanges with Senior International Students (International Students Group)
There are several international groups at the university composed of students from the each country or region. There are also groups of international students who share the same country of origin who do activities and study together. We recommend you get in touch with the relevant group's contact person to exchange information and participate. You can also try to look for international students from your home country or region in the International Student Center lobby.
"International Student Groups by Country and Region"
interaction with Japanese Students: International Student Center 105 ・ISL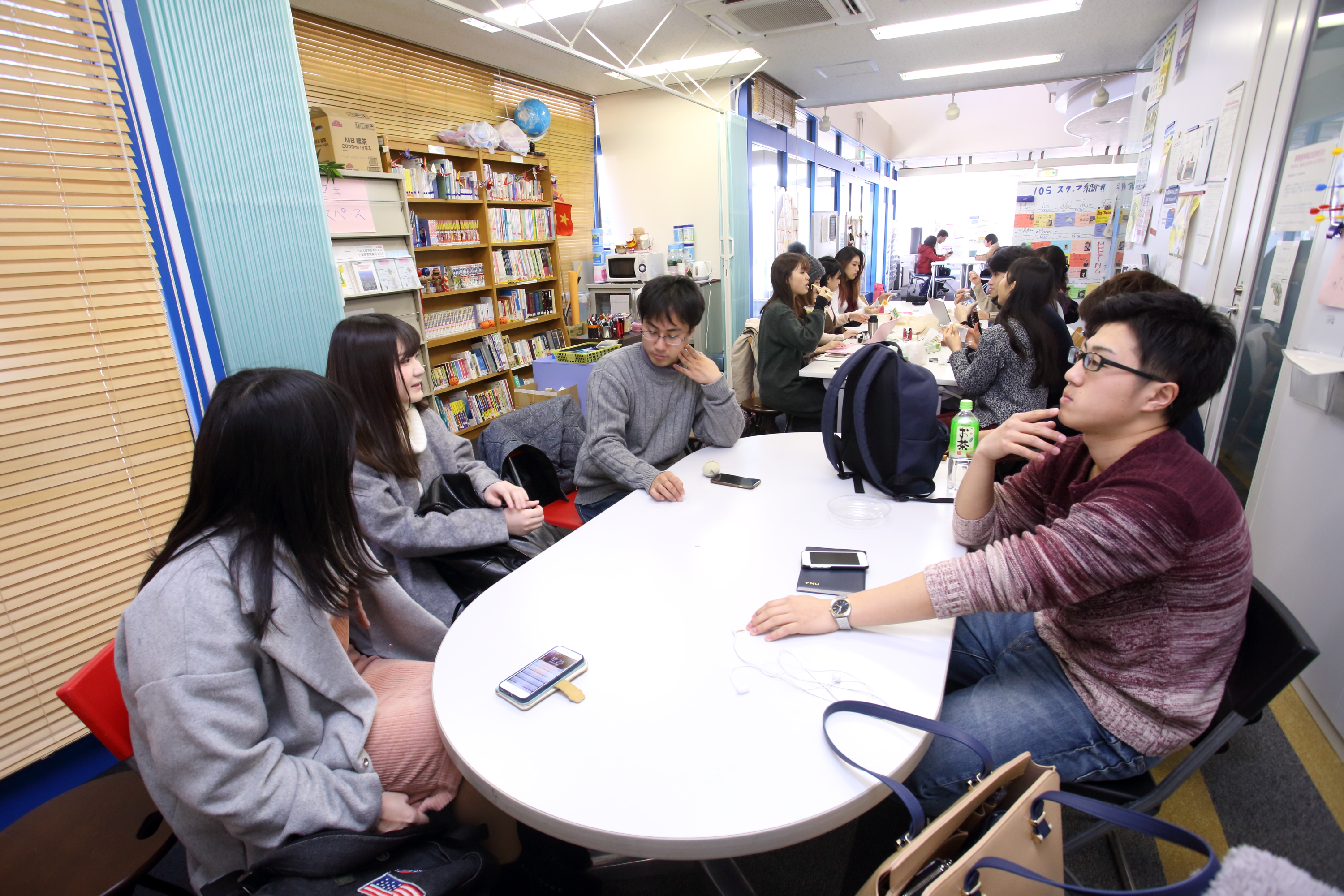 YNU has approximately 900 international students; as a proportion of all students, this is top class for Japan. In other words, Yokohama National University is a great environment for international and Japanese students to interact with one another. However, merely attending classes does not seem to provide sufficient opportunities for international students to interact with Japanese students.
At International Student Center 105 (ichi-maru-go, authorized by the Director of the International Strategy Organization) , student staff members are available for three hours during lunch break (11:30~14:30) for international students who wish to interact or communicate with Japanese students, or who have questions or concerns (105 is closed during extended holidays). Please feel free to drop by second floor lobby of the International Student Center and also patricipatate in the events such as welcome parties and interactive exchange camps.
In addition, there is also the International Students Lounge (ISL: authorized by the Director of the International Strategy Organization) located in the Lawson convenience store in the building N10-4. Its operating hours are Tuesday, Wednesday, and Friday from 12:10 to 12:50. Student staff members offer a variety of advice, and engineering students in particular are welcome to drop by.
We hope you will participate in these activities to get to know many people and make your time in Japan a memorable, rich experience.
Homestays and Experiencing Japanese Culture
The university offers a homestay program in which international students live in ordinary Japanese homes to experience daily life with a Japanese family. These programs are usually held around June and December each year. A number of hands-on courses and sightseeing trips to experience Japanese culture are also continuously being offered to international students. Information is posted on the university website and on bulletin boards, so please feel free to participate.
*The Campus Members Program: Let's go to museums!
The university is a member of "Campus Members Program" of the following museums for the purpose of having our students become more familiar with Japanese culture and cultural properties.
• Tokyo National Museum (TNM)
• The National Museum of Modern Art, Tokyo (MOMAT)
• The National Museum of Western Art (NMWA)
• The National Art Center, Tokyo (NACT)
• National Film Archive of Japan (NFAJ)
For free admission to the regular exhibition (and receiving additional discounts on special exhibitions), just present your student ID card at their ticket office.
For details, please refer to the Campus Members Information.
YNU Student International Volunteers
Please refer to Student International Volunteers.
Individual Japanese Support from Regional Volunteers
Regional volunteer groups outside the university, such as the "Kanagawa SGG Club" (KSGG) and "Ryuugakusei to Katariau Kai" (RKK) provide individual tutors for Japanese language learning and support. There are also a variety of events introducing Japanese culture for international students. Talking and interacting with Japanese people besides students and teachers will improve your Japanese language skills and hopefully make your stay in Japan all the more memorable and fulfilling. If you are interested, please view the postings in the International Student Center.
List of Exchange Events