For Current International Students
The first thing to do is visit the International Student Center!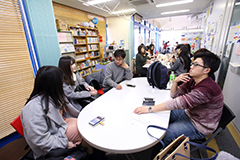 The International Student Center is the four-story building with a green roof that looks like it only has three stories that you will see on your left once you enter the main gate and climb up the stairs on the left.
The Center has a lobby for international students, classrooms (where Japanese language course, general education courses take place), bulletin boards for international students, and faculty members' rooms.
The Center is open from 8:30 a.m. to 5:00 p.m., during which students can use the lobby freely for different purposes whether it be talking, eating, or learning. The bulletin boards in the Center are used to put up useful information for international students.
It is important for international students to collect as much necessary and helpful information as possible to make their student lives in Japan more enjoyable. All international students are welcome to come to the International Student Center to join other international and Japanese students in the lobby to actively communicate with them. In the lobby on the second floor, you can also find student staff from the International Student Center 105 (counseling and communication office). Feel free to speak to them and ask them for help. Let's communicate with each other with an open mind.
The following describes important things for international students to know. However, remember that the first thing to do if you are uncertain about some aspect of in your student life is to consult your "Living Guide for International Students in Japan.." This leaflet is kind of like an encyclopedia that contains a summary of many different aspects of your international student life. We hope you will put it to use.